Online gifting has reached a certain high in the present. With a number of online florists being there, sending flowers to the capital city couldn't get easier. The main advantage of the online florists is that they feature a charming collection of stunning flowers online which makes it a super easy way of getting the flowers that you desire for sending to your loved ones on a variety of occasions. In the hectic day schedules of modern-day existence, online florists save the tiring task of visiting the different flower shops to place the order for the flower of our choice.
Whereas you need to make time to visit the shops physically within a certain time frame when the shop is open, there is absolutely no hurry to place your order with the online florists as you can do it at your convenience. You can place the order from any part of the world and you can do so at your preferred time. With the online florists being there, you never really miss out on any kind of celebration to be precise.
You can drop surprises to your friends and family whenever you feel like adding some cheer to their lives on mundane days. Now, you must be having the question that which florist to choose for the online flower delivery in Delhi. Well, you can go in for India's most preferred online florist which is YuvaFlowers.
Opting for the services is not only to leave you charmed, but the affordable range of flower bouquets is simply to leave you all amazed to put it precisely. Flowers have a magical essence and receiving a neatly done flower bouquet can work as the ultimate mood lifted for the matter.
For the best kind of flower arrangements, the plethora of options that are simple to leave you spoilt for choices, you definitely need to visit this portal. As for the flower choices, well here are some of the options that shall make it a little clear that what kind of bouquets are made available by this florist online. Here are some of the options as enlisted under:
Carnations Carols: It is this gorgeous arrangement of 5 red carnations along with 5 white carnations that are done in a neat bunch in a red and white paper packing and are done with a red and white ribbon bow. The contrasting shades of gorgeous red and pristine white are simply stunning, to say the least.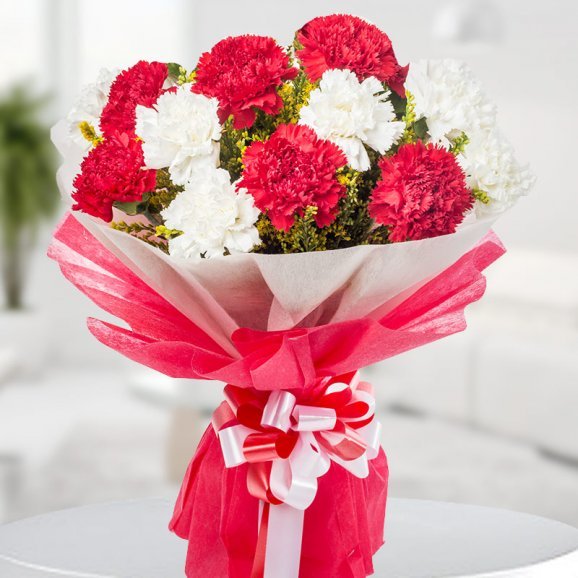 White Roses Bunch: An enigmatic arrangement of 12 pure and pristine white roses that are done in a blue paper packing and are decorated with a white ribbon bow. It can be gifted on a number of special occasions as a token of appreciation and love to your dear and near ones for the matter.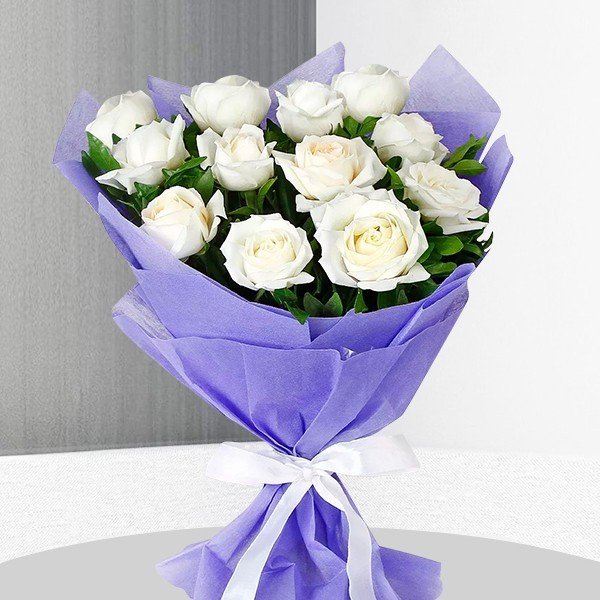 Mix Gerbera Arrangement With Cake: It is a beautiful arrangement of gerberas in pretty shades that are done with decorative leaves to bring in the best kind of effect. It comes combined with a delicious half-kg black forest cake. The color combination of gerberas in distinctive hues makes it a ravishing choice that comes with a mouth-watering cake and this can be gifted on a number of special occasions.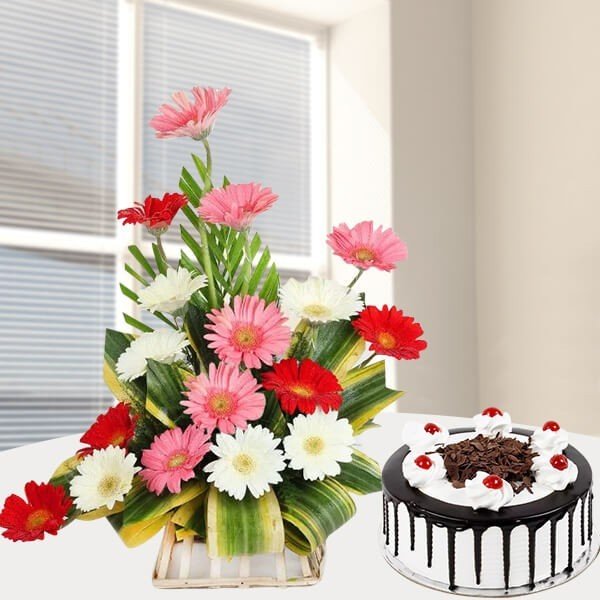 Teddy Blossoms: It is this magnificent arrangement of 12 pink carnations that are done in a blue and white paper packing and decorated with a pink ribbon bow. It comes with a 6 inches cute and cuddly teddy bear and makes for the perfect gift for her if she is fond of pink flowers and soft toys.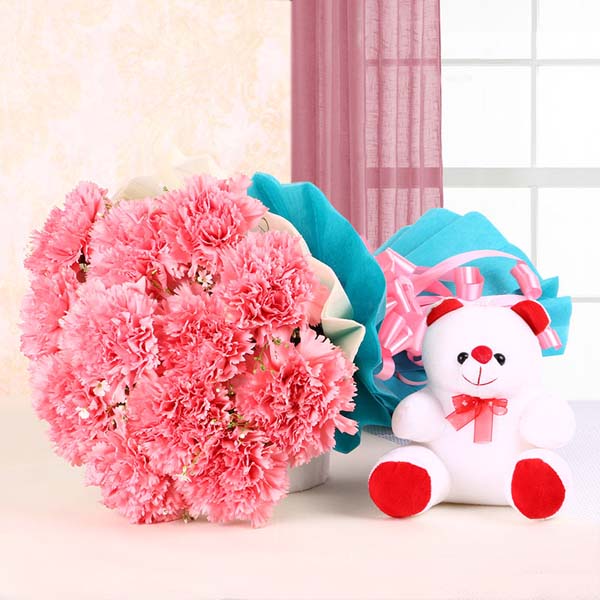 The Blooming Love: It is this heart-shaped arrangement of 30 scarlet red roses that sit as pretty as a picture. This makes for a stunning choice of bouquets that makes for the ideal choice for the celebration of love and romance for the matter.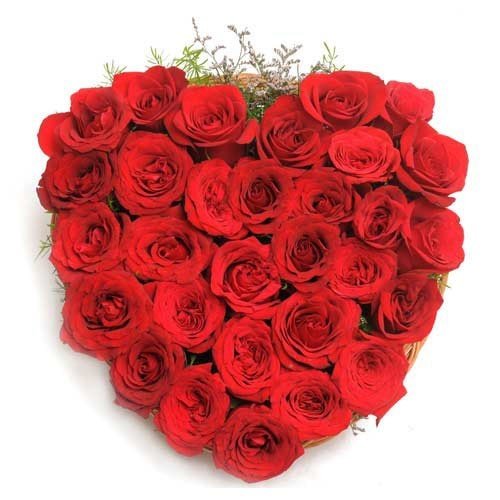 Always Works: Indeed this 'always works for both formal and informal occasions when you need to send some charming flowers to your loved ones. It is this unique arrangement of 6 purple orchids along with 2 white Asiatic lilies that come creatively arranged in a basket with lots of fillers for the perfect effect.

The Big Hug: This makes for a pretty one that features the enigmatic arrangement of 20 scarlet red roses along with 5 orchids that are arranged in a neat basket with lots of fillers along with dracaena leaves. This is creatively arranged in a unique style.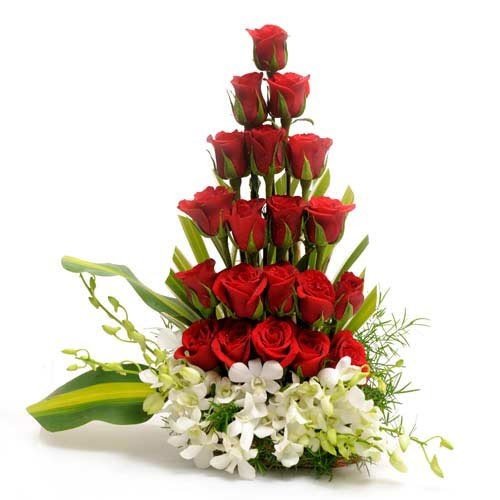 Mixed Roses Bouquet In Jute Wrapping: It is exceptionally beautiful and not every day do we come across an arrangement of flowers in jute wrapping. Features 6 scarlet red roses, 4 sunshine yellow roses, 4 pristine white roses, 4 pretty pink roses that are beautifully done in a jute wrap and tied with red and white yarn.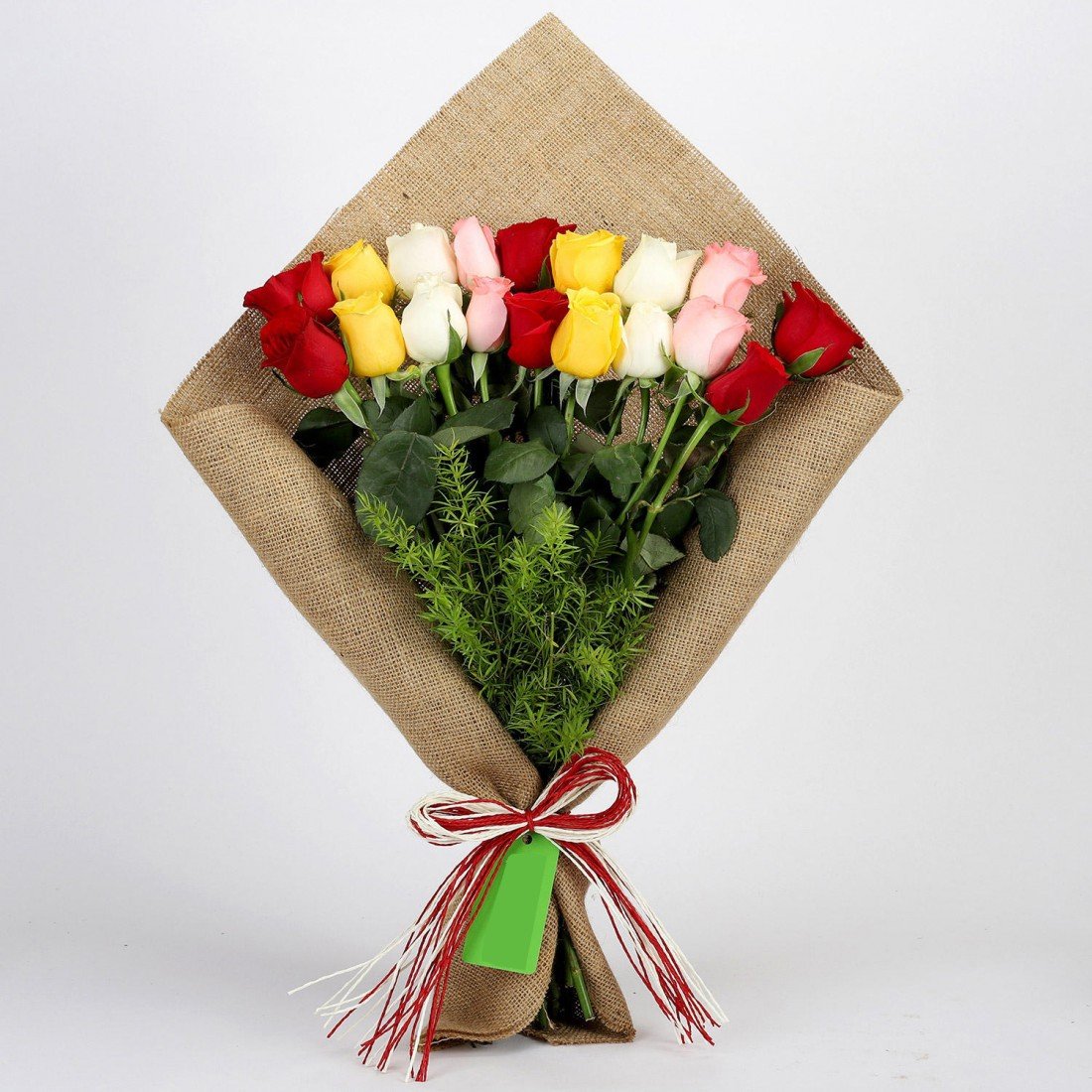 Make Up Her Mood: Whenever you need to spread some sunshine, love, and warmth in the life of your loved ones, you can do so with this bright bunch of yellow flowers. It is this perfect combination of 12 yellow roses along with two yellow Asiatic lilies that come arranged in a decorative glass vase.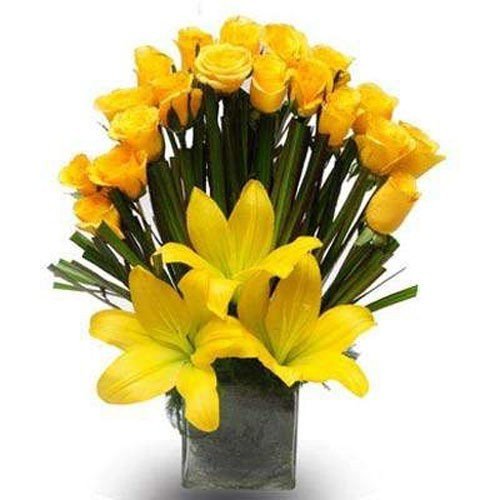 Double Rose Heart: Makes for the perfect anniversary gift and features a beautiful arrangement of double hearts crafted out of 35 velvety red roses. The double rose hearts come arranged in a beautiful cane basket.

Vivid Memories: This remains a witness to the fact that how brilliant the combination of red and yellow can be. It is this basket arrangement of 20 red and yellow gerberas that is simply breathtaking, to say the least.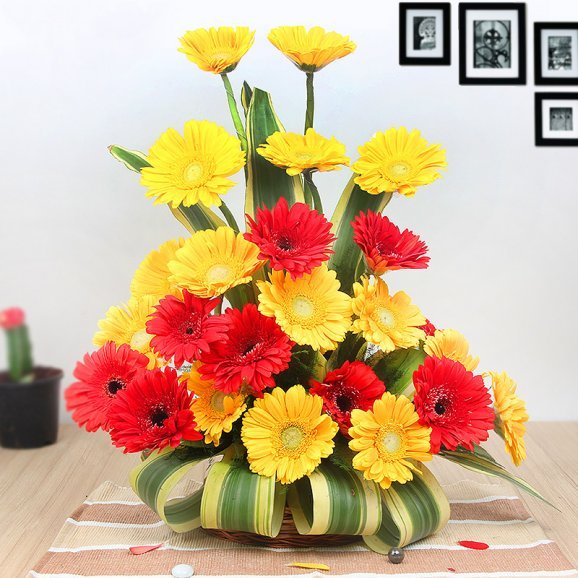 Good Luck Combo: It is this amazing combination hamper that features flowers with plants. This is a stunning arrangement of 6 pink roses along with 6 white roses that are neatly done in a plastic wrapping with lots of white fillers and come with a lucky and prosperous bamboo in a glass jar.

Orchids Enchantment: Bearing true to its name, this makes for a super classy choice to put it precisely. It is this beautiful arrangement of exotic orchids that comes combined with a large box of Cadbury Celebrations. It is immensely enchanting to make one fall in love at the first sight itself.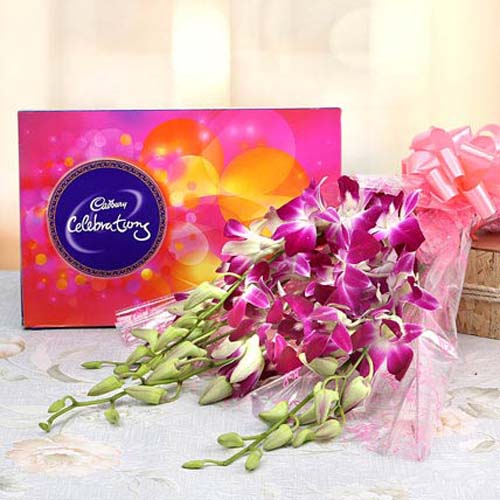 Love You Nutty Combo: This is an exclusive choice of a hamper that offers a majestic bunch of 12 mixed color roses that are done with lots of seasonal fillers in a white paper packing and is decorated with a red ribbon bow. It comes combined with a half kg pack of assorted dry fruits.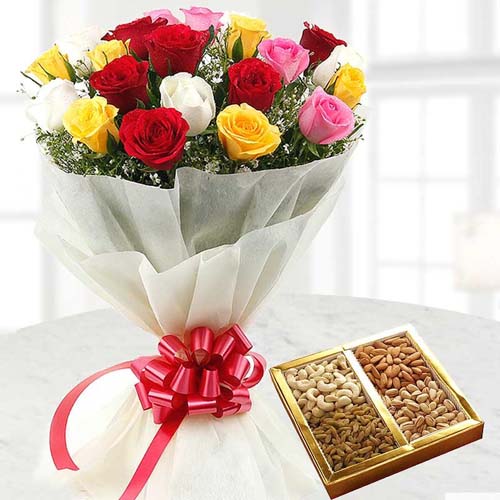 Red And White Roses Bouquet: A majority of people have this fascination for red and white flowers that are bound to charm. Is this a beautiful arrangement of 10 red and white roses with lots of green fillers? The beauty and charm of this red and white combination can never go out of style.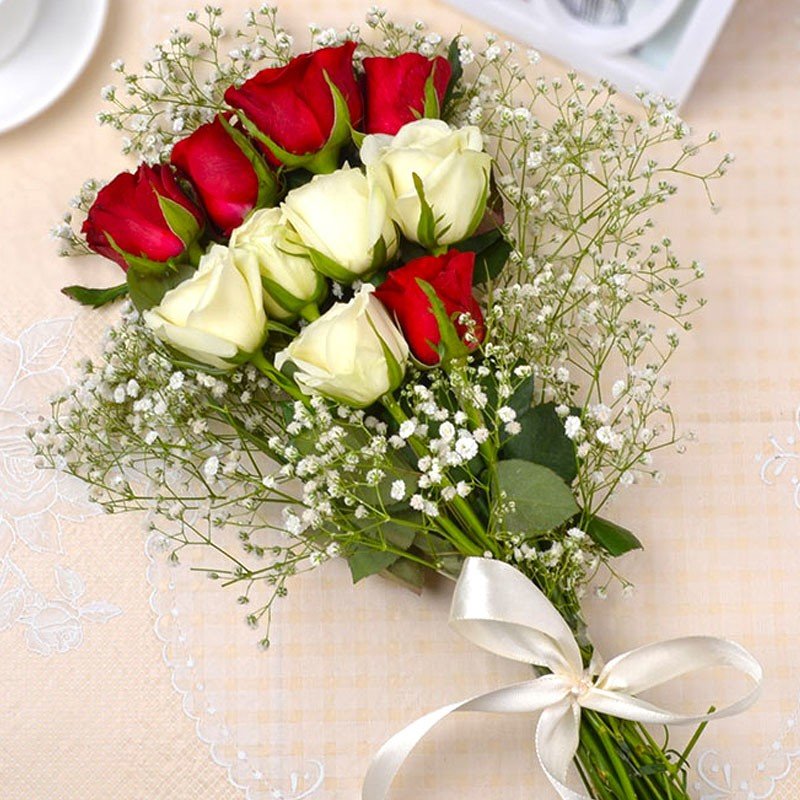 Explore a majestic choice of flower bouquets before you take your pick depending on the relationship and the occasion along with other factors. Remember that every bouquet is crafted by the best florists and they take special care to get your flowers done to perfection to put it precisely.

As for the delivery, you can absolutely relax because the delivery is done to the best of your satisfaction right at the time that you desire. Once you select the bouquet, you can choose the delivery speed that you desire, be it same-day delivery, midnight delivery, or express delivery for the matter.
With every information and preferred choice of time, place your order right away and your bouquet is sure to get delivered to the recipient's doorstep in Delhi right on time. Surprise your loved ones in the city of Delhi with charismatic flower bouquets online that sit as pretty as a picture!